Samsung Galaxy S6 Straight LCD (Unlocked, 32GB, Gold, Refurbished)
Products Details
This refurbished smartphone is unlocked, refurbished and fully-tested to look and work like new. It comes with a USB cable, official gift box, and 3 month warranty!
Samsung's S6 follows Apple's mobile payments lead with Samsung Pay, and takes a chance on its sturdy and home-made Exynos processor (versus the Qualcomm Snapdragon 810 that will be found in most of its high-end Android rivals). The S6 also bakes in wireless charging support and compatibility with a new version of the Gear VR virtual reality accessory -- two features you won't find on any iPhone.
Does the new phone have enough in the way of looks and specs to reverse Samsung's sagging smartphone sales? Without a doubt. Samsung continues to build on its camera strengths while also offering interesting extras its Android rivals don't have. The only real danger is in longtime fans of microSD cards and removable batteries punishing Samsung by finding vendors that do. Samsung's hardware has long stood up to the iPhone; at long last, its physical design does, too." – Source: cnet.com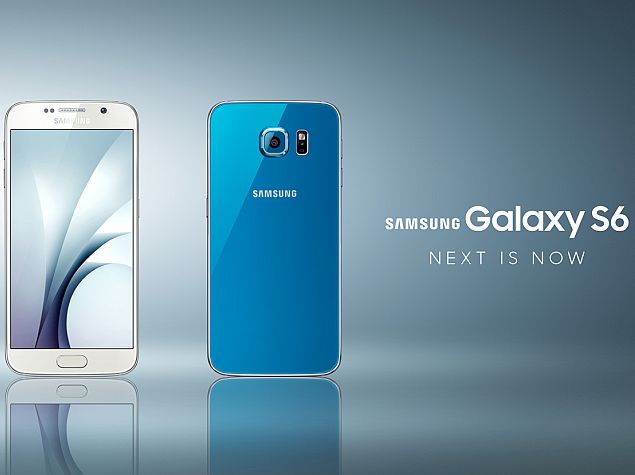 As the mobile devices market gets more competitive than ever, mobile companies are racing against each other to churn out state-of-the-art smartphones. Samsung is no exception – this South Korean multinational company has designed yet another eye-catching creation - the Samsung Galaxy S6.
Donning both straight lines and subtle curves, the S6 stands out from its predecessors, offering amazing performance, speed, and utility. Get your hands on the Samsung Galaxy S6 and be amazed with what it can do.
These days, aesthetics play an important role in creating a smartphone. Samsung has worked on overhauling the look of the much cherished S series smartphones, resulting in the birth of the S6 was the outcome. Powerful and outstanding, its lightweight and slim metal figure sets itself apart from the rest. The Corning Gorilla glass provides superior protection to ensure the longevity of its rich and vivid display.
Matched with a dynamic, reflective surface on the back. The glass and metal finishing of the Samsung Galaxy S6 is innovatively slim; its design is an effortless fit for your hand.
You can't help but be captivated by the Samsung Galaxy S6's vivid 5.1-inch Quad HD Super AMOLED display. The brighter, clearer and sharper display offers crystal clear visibility of the photos that you capture, videos that you watch and text you read. Besides richer colours and better colour accuracy, the display also alters the brightness according to the ambient lighting.
Life is accompanied by beautiful moments. Capture those special once-in-a-lifetime moments with the Samsung Galaxy S6's powerful and responsive 16-megapixel rear camera. It is fitted with an Optical Image Stabilization to ensure those timeless moments are captured in razor-sharp clarity.
Your videos and still photos can be viewed instantly on its vividly lit 5.1-inch Super AMOLED display. The frontal 5-megapixel camera and its wide-angle lens produce crisp images – perfect for selfies and video calls.
A smartphone should not only take stunning photos, but it should be able to capture videos perfectly. With its 16-megapixel camera and its Optical Image Stabilization feature, Samsung Galaxy S6 makes video-capturing almost effortless. Boasting superior video quality at 2160 pixels at 30-frames per second, your videos will look vivid and lifelike.
To accommodate Samsung Galaxy S6's powerful 16-megapixel camera, 5.1-inch Quad HD Super AMOLED display, the Octa-Core processor needs to be powered to keep it running efficiently and smoothly every time. The designers and engineers at Samsung have equipped this smartphone with a 2550mAh battery underneath the sleek metal body. This battery charges up rapider than the rest, and it supports wireless charging capabilities to keep you connected whenever, wherever.
Specs
Dimensions: 70.5 x 143.4 x 6.8 millimetres
Mass: 138 grams (battery included)
Software Environment
Embedded Operating System: Google Android 5.0.2
Browse devices running this OS
Microprocessor, Chipset
CPU Clock: 2100 MHz
CPU: Samsung Exynos 7 Octa 7420
Browse devices based on this microprocessor
Memory, Storage capacity
RAM capacity: 3 GiB
ROM capacity: 32GiB/64GiB
Display
Display Technology: color Super AM-OLED , 16777216 scales
Display Diagonal: 5.1 "
Display Resolution: 1440 x 2560
Video port: Supported
Sound
Microphone(s): stereo
Loudspeaker(s): mono
Audio Output: 3.5mm
Cellular Phone
Cellular Networks: GSM850, GSM900, GSM1800, GSM1900, UMTS850 (B5), UMTS900 (B8), UMTS1700/2100 (B4), UMTS1900 (B2), UMTS2100 (B1), LTE700 (B17), LTE850 (B5), LTE1700/2100 (B4), LTE1900 (B2), LTE700 (B12), LTE800 (B26)
Cellular Data Links: GPRS, EDGE, UMTS, HSDPA, HSUPA, HSPA+, LTE, LTE-A
Call Alert: 64 -chord melody
Vibrating Alert: Supported
Speakerphone : Supported
Control Peripherals
Positioning Device: Multi-touch screen
Primary Keyboard: Not supported
Directional Pad: Not supported
Scroll Wheel: Not supported
Interfaces
Expansion Slots: Not supported
USB: USB 2.0 host/client, 480Mbit/s, OTG 1.3
micro-USB
Bluetooth: Bluetooth 4.1
Wireless LAN: 802.11a, 802.11b, 802.11g, 802.11n, 802.11ac
Infrared Gate: Supported
Multimedia Broadcast
Analog Radio Receiver: FM radio (76-108 MHz)
Digital Media Broadcast Tuner: Not supported
Satellite Navigation
Built-in GPS module: Supported
Complementary GPS Services: Assisted GPS, QuickGPS, Geotagging, Simultaneous GPS (S-GPS)
Built-in Digital Camera
Primary Camera: 15.9 MP
Autofocus (AF): Supported
Optical Zoom: 1 x
Macro Mode: Supported
Built-in Flash: mobile light (LED)
Secondary Camera: 5 MP
Additional Details
Built-in accelerometer: Supported
Battery: built-in
Battery Capacity: 2550 mAh
Hot Tags:
Feedback